There are a number of ways of tracking general interest in the world's luxury brands, the most obvious one being annual sales figures. In recent times a more contemporary measure has emerged – the number of times those exclusive brand names are entered into the Google search engine.
Against a backdrop of global economic uncertainty, the fabled "green shoots of recovery" are finally starting to emerge in our internet searches. According to a study published last week, searches for the luxury car brands Aston Martin and Mercedes Benz have increased by a third since the same time last year with Gucci also up by 8 percent. While these searches may be purely aspirational, could they be an indication of increased consumer confidence?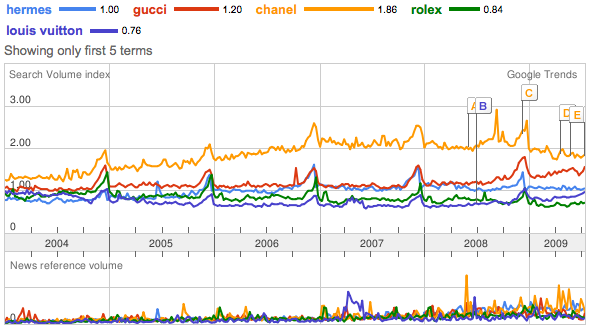 The recent Millward Brown 2009 Brandz survey also has good news for luxury brands. The survey identifies the world's most valuable brands measured by their dollar value and their luxury category shows a 10 percent increase in brand value, driven by demand in China and other developing markets.
Leading the category is Louis Vuitton with a brand value of $19.4 billion followed by Hermes, Gucci, Chanel and Rolex. Rolex is the highest riser in the top ten with a 35 percent increase in brand value. Cartier and Moet & Chandon have dropped 12 percent and 2 percent respectively but still hang on to a top ten ranking.
So how are these brands growing when the world is going through a recession? For a number of them (including Moet & Chandon, Gucci, and Louis Vuitton), an advertising strategy emphasizing their brand's heritage has really paid off, appealing to a more reflective consumer. Furthermore some discreet sales have shifted stock without tarnishing the luxury brand.
Against a tough economic backdrop, it would seem that luxury brands are not only surviving, they are positively thriving.